Why I'm Choosing Bridal Blog
Why I'm Becoming A Bridal Stylist?
If I can be honest... I've always admired weddings, marriage, and togetherness. It's been over 12 years now since I've been looking and studying the biblical perspective, the beauty fashion and style on marriage. Some have been saying they never knew this but those closest to me hear it a lot more than others.
Why do you want to become a bridal stylist?
Let's me admit thinking of weddings and bridal can be quite fairytale. It can if you let it! I have really torn down the layers to what I thought marriage is and been exposed to God's truth about the depths and beauty of marriage and weddings. One of the top reasons why I feel the tug to become a bridal stylist is definetely because I desire the transformation process of becoming a bride/groom. Let's be honest, weddings come with a lot! No matter if you plan it yourself or if you hire a planner there's still a lot to consider yet alone you still have to focus on nurturing and being present in your relationship. I enjoy supporting brides or grooms through the process. Rather that process is spiritual support or handling all their beauty/grooming needs I'm that girl.

It's more like serving on my end, though. It fills my heart to hear the vision of a bride's vision and partner with them to bring it to past. My main goal is always to serve in a way where you can feel pampered through the experience. Your big day should be a day where you feel the most beautiful and you are relaxed and enjoying every moment as you get to the altar. Although some things happen out of control with planning at times it's still my focus to help with making the best decisions for a lasting experience.

I would share that another reason why I choose bridal is because I love to enhance the beauty of the bride to a pure and elegance look with makeup and hair that doesn't take away from the authentic of their everyday look. In addition, I find it necessary to also care or treat their hair and skin before the wedding. It's always healthy hair and skin first before the styling looks.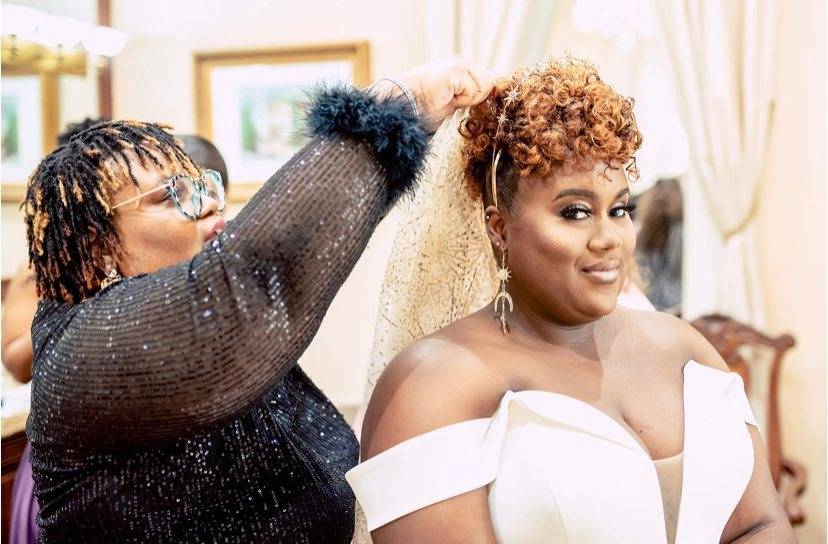 The Journey to the Altar is when you transition to become one...
If you've ever gotten serviced by me in the salon I'm sure you would have your own sayings about your experience. I absolutely love people and one of my key points a stylist is to learn and take away something from every client. It has helped me evolve as a stylist to this day. I always try to create styles or provide services that will empower my clients to be embrace their confidence regardless of their style. I believe it's true that we are our most confident when we look good or feel good. So I try my best to be sure I create looks to empower my clients. Through it all, this plays a major part in bridal. I think it's important to create looks that can make my bridal clients feel more than normal. It's like a next level of beauty that needs to be created so they can look their best.

Building relationships is where I'd like to start. If you are preparing for a wedding, I look forward to connecting with you. Click the link below and let's set a time to chat.

-Signed your soon to be Bridal Stylist